The construction phase of the Bryan ISD Build project officially began on February 3, 2023, with a Groundbreaking Ceremony at the site of the Quintero-Mendez family's future home.
"This is a great day for Bryan ISD and our entire school community," Bryan ISD Superintendent Ginger Carrabine said, describing it as a highlight of the year. She said it allows the district, its employees and students to "walk the walk" of the Essential 8 character development program.
Each phase of the project embodies the Essential 8 character traits of kindness, tolerance, gratitude, philanthropy, work ethic, optimism, and courage, she said.
Carrabine said the project started with children in mind. Not only does it help current Bryan ISD students by providing their family with a new home, but also it gives students and families a chance to experience firsthand what it means to give back to their community.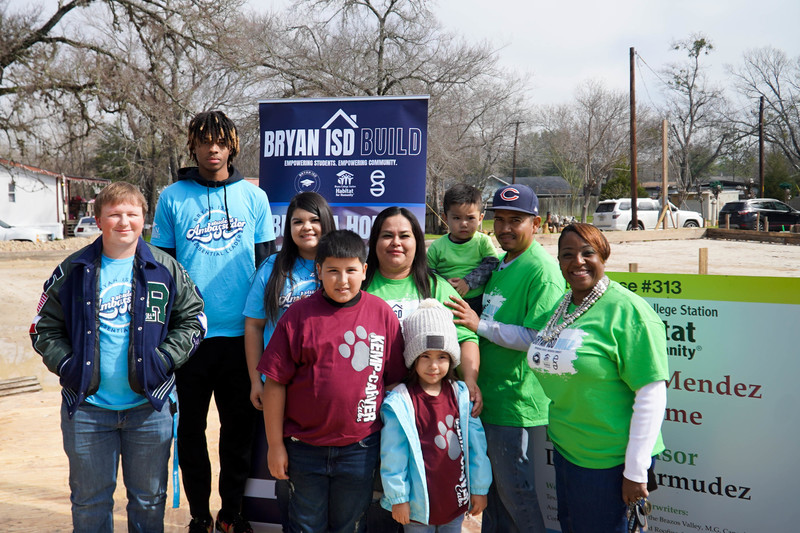 "We want them to have this memory and this experience so when they graduate and they walk out of our school district doors, we want them to remember what it's like to serve their community," she said during the ceremony. "And we want them to be intrinsically motivated so that they will continue to serve their community as they become productive citizens around it."
Carrabine announced the project, which is a partnership between Bryan ISD and Habitat for Humanity Bryan/College Station, in August 2022. The fundraising phase of the project began with the 2022-2023 school year, and it was funded through donations and fundraisers organized by the Bryan ISD and Brazos Valley communities.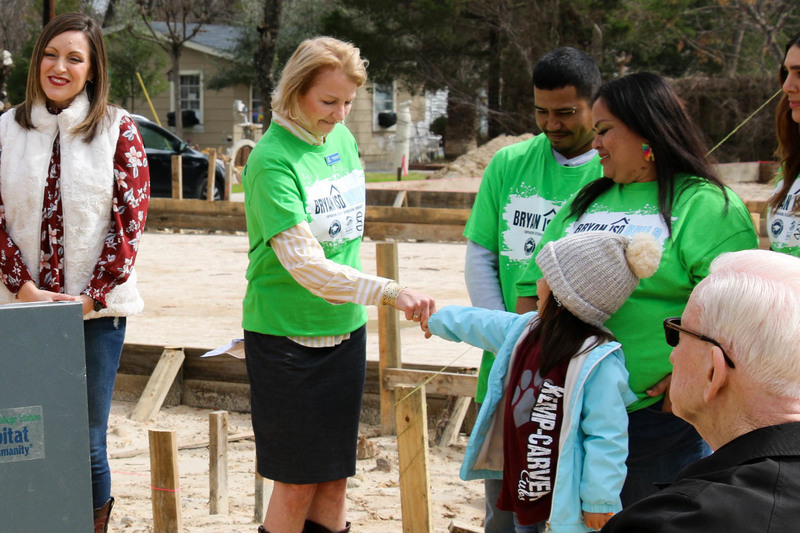 Board member and Habitat for Humanity volunteer David Stasny said when Carrabine first approached the Bryan ISD Board of Trustees with the idea, he thought it would be a decade or so before the district would raise the $80,000 needed to fund the house.
"We were quickly reminded about how generous the Bryan-College station community is," he said.
A $40,000 matching donation from the family of the late Ruth Clearfield was a key piece in helping reach the $80,000 fundraising goal.
Norman Clearfield, Ruth Clearfield's son, called it an "incredible blessing" to be able to honor his mom with a project like this.
"I've done a lot of work with Habitat over the years, so we kind of know the power of giving a house to a family and how transforming that can be," he said, saying the groundbreaking ceremonies never get old. "And then when we had the opportunity to partner with [Bryan ISD] and be part of the [Essential 8] program, there's just so many blessings involved. To see the students and the faith community and everyone come together to make this happen for this family, it's transformational."
Johnson Elementary teacher Carmen Garcia translated for the family and on their behalf said, "Their current house is in bad conditions. It's unleveled, cracked with air coming in through the windows. They're excited about this new Habitat home because it will help us not suffer from extreme weather conditions, like cold rainy days. This home will give them safer and more comfortable living conditions."
Emcee of the ceremony, KBTX anchor Karla Castillo described it as a necessity for the family, not a luxury.
Stasny said the project is a "win-win-win-win" because it provide an affordable home to a great family, it shines a spotlight on the local Habitat for Humanity organization, it puts into action the Essential 8 character program, and it further spreads the message that Bryan ISD is more than just a collection of schools where students learn and take tests.
"I think that what we are showing is that we are a family that you can be proud to be a part of," he said.
One day after the Feb. 3 Groundbreaking Ceremony, volunteers from Bryan ISD and members of the Quintero-Mendez family joined Habitat for Humanity staff and volunteers on Feb. 4 at the Habitat for Humanity warehouse in Bryan for the first build day.
Together, they constructed the interior and exterior walls that will become the family's home and painted wood for the project. The walls were each made of 2x4 studs that were personalized for the family by Bryan ISD students and employees.
This will be the 313th Habitat for Humanity house in the Bryan-College Station area. Construction will continue through the spring, and the house is expected to be completed later this spring or summer. At that time, the family will officially move into their new home.
Watch the Groundbreaking Ceremony in our Facebook Live below or here and view more photos here!